Mtskheta District Court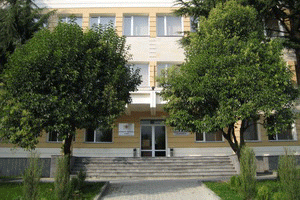 Address: Samkhedro St. No. 17, Mtskheta
Phone: 251 23 71; 251 23 09; 251 36 67; 251 20 04; 251 36 98
Mtskheta District Court, in its united form, has been operational since 18 September 2006.
Its territorial jurisdiction covers territories within the administrative borders of the Mtskheta, Akhalgori, Dusheti, Tianeti and Kazbegi municipalities.
Mtskheta District Court has 3 judges, of whom 1 judge is sitting on the Criminal Cases Panel , 1 on the Civil Cases Panel and 1 on the Administrative cases Pane. The magistrate judges discharge their judicial functions in the municipalities of Akhalgori, Dusheti, Tianeti and Kazbegi.
Territorial jurisdiction of the magistrate judges coincides with the administrative borders of their respective municipalities.
Office of the Mtskheta District Court is staffed with 38 staff members.